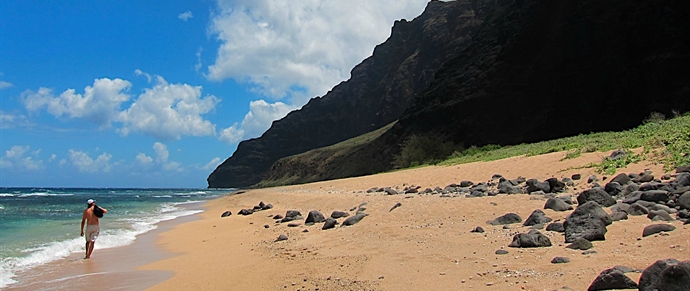 There are two legal kayak landing areas along the coast. This is one of them! Kayak landings are prohibited at all other beaches in the park, including Honopu and Nu'alolo Kai.
Kayaking also affords you a camping option not available to hikers. Beyond Kalalau Valley, there are several valleys and offshore reefs. Milolii Valley is accessible by boat only, and camping is allowed here during the summer months. Permits are required to stay overnight. However, day use landings are allowed during the summer (May 15 through Labor Day) without a permit. Milolii has a channel through the reef facilitating boat landings on the sand beach.
The only way in here is by boat! Arrange to have a commercial boat operator to drop you off and pick you up.