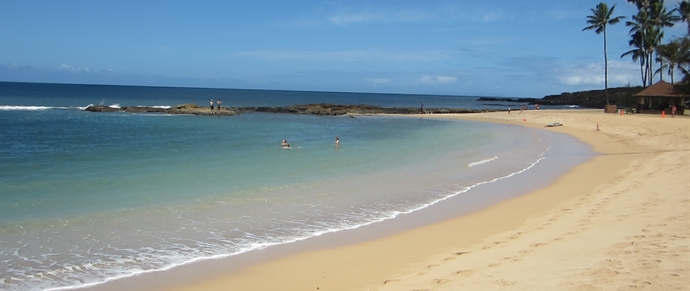 The natural flast along this beach have been used by Hawaiians for generations. Today, this site continues to be used for traditional salt making. In late spring the wells (puna) are cleaned and the salt making process runs through the summer months. Mother nature has been kind enough to create a ridge of rock between the two rocky points at Salt Pong Beach, resulting in a large lagoon area that is fairly well protected expect during times of high surf.
This beach is well known for surfing and windsurfing. Familes and children also like this beach for it's safe and calm swimming area.
Salt Pond Beach Park is a wide, reddish-golden sand pocket beach that is generally safe for swimming all year round. As mentioned at both ends of the beach are rocky outcrops; a natural rock ridge connects the outcrops, creating a small lagoon. This pool-like area is where families with toddlers usually swim. The beach is usually safe for swimming, except during times of high surf, when rip currents form in the channels between the ridge.
Safety
This beach has dangerous waves breaking on rocks, ledges and reefs. Watch for sharp coral and slippery rocks.
Video