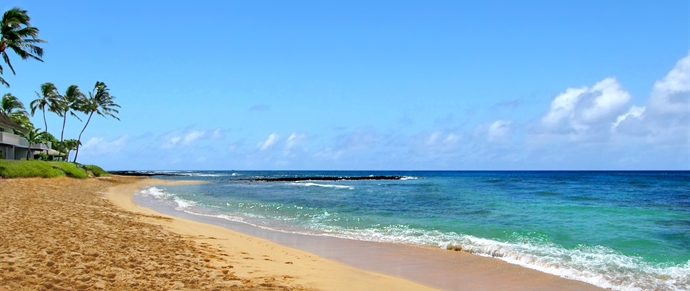 Kiahuna Beach is a section near the popular Poipu Beach, right in front of Kiahuna Plantation Condos and the Sheraton Resort. Poipu Beach park is on one site and Brennecke's Beach is on the other. Not to be confused Brennecke's Beach on the other side. This beach is sometimes also called Sheraton Beach, or by mistake Poipu Beach. It may seem private due to the nature of nearby resorts, but it's not.
The waters tend to be very rough, not suitable for kids despite some off shore reefs. Strong swimmers and snorkelers generally do fine. For experienced surfers or body boarders, try the breaks near the Sheraton Resort. Watch out for rouge "sneakers", waves that come out of the blue and crash with amazing force. In this case you may end up on rocks.
This beach is a popular beach for beginner surfers, snorkelers and body boarders. You may see others getting first time lessons. The water is usually fairly clam inside the reef. Outside the reef surfers ride the waves, and the water gets much more chopping. This beach doesn't have shade, but you can bring an umbrella to stay out of the sun.
There is rocky outcropping at the west end calls Cowshead, and the nearby surf break called First Break is known to be extremely challenging even for experts. You'll find another expert spot on the end of the beach near the Marriott Waihoai Beach Club, with large swells when conditions are right.
It's easiest to park at Poipu Beach Park.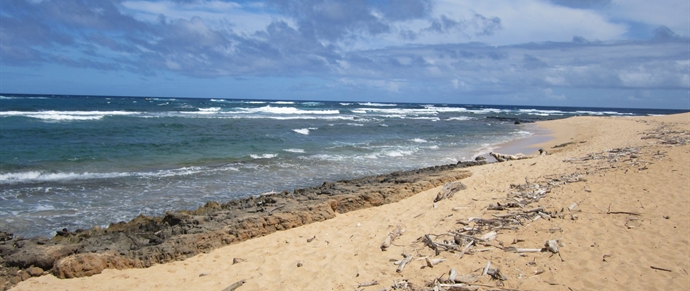 Kawailoa Bay Beach
Mahaulepu Beaches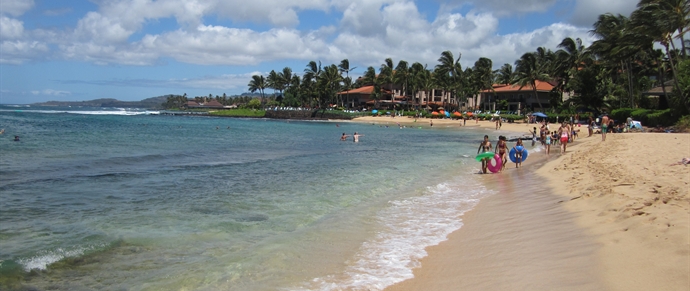 Waiohai Beach Park
South Shore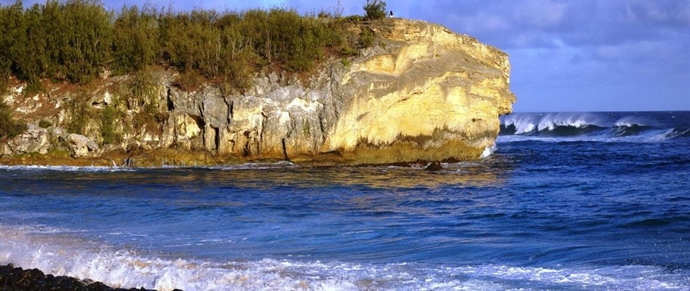 Shipwreck Beach
South Shore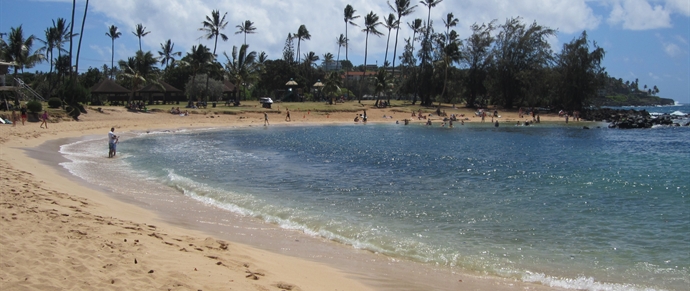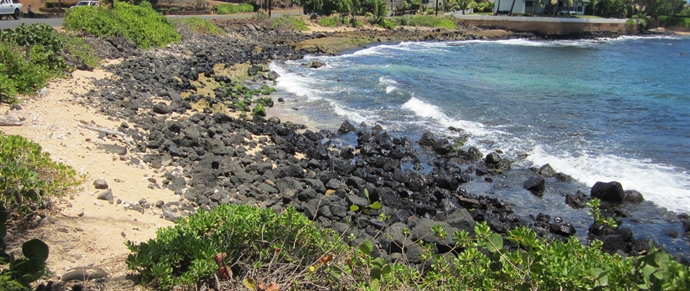 Prince Kuhios Beach
South Shore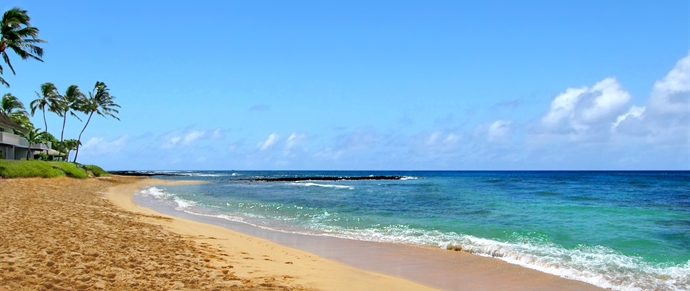 Kiahuna Beach
South Shore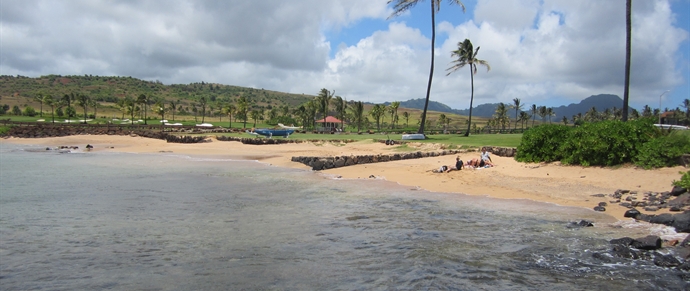 Kukuiula Beach
South Shore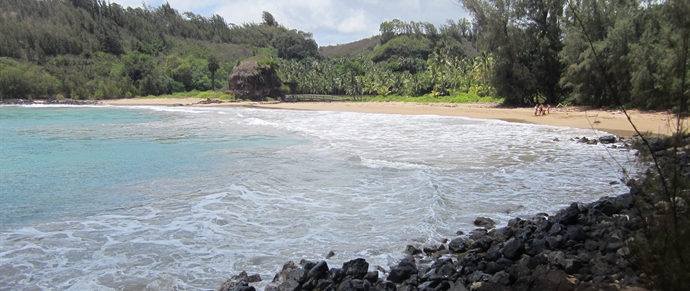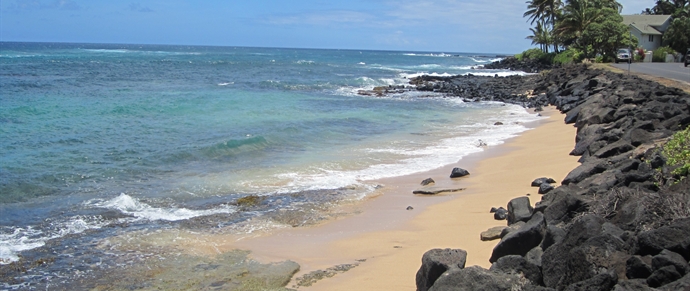 Mahaulepu Beach
Mahaulepu Beaches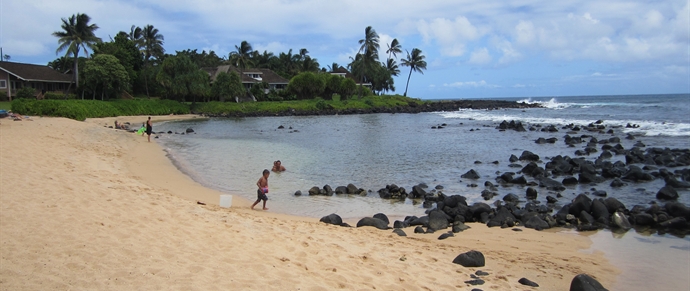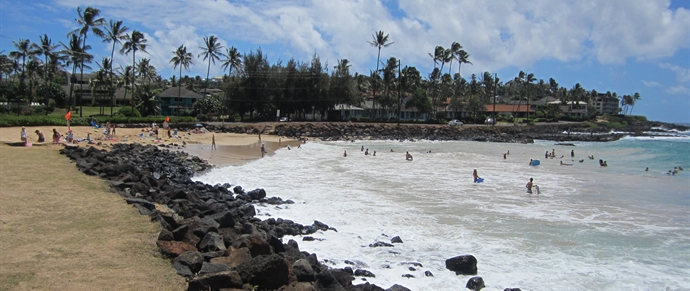 Brennecke Beach
South Shore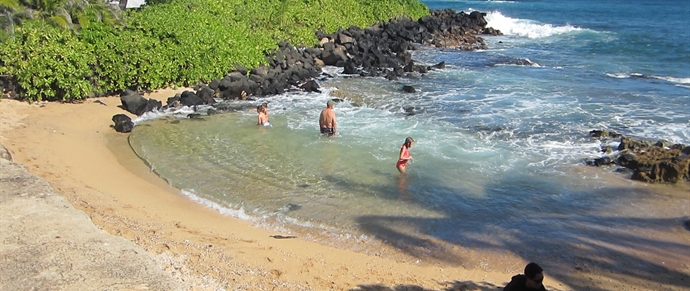 Keiki Cove Beach
South Shore