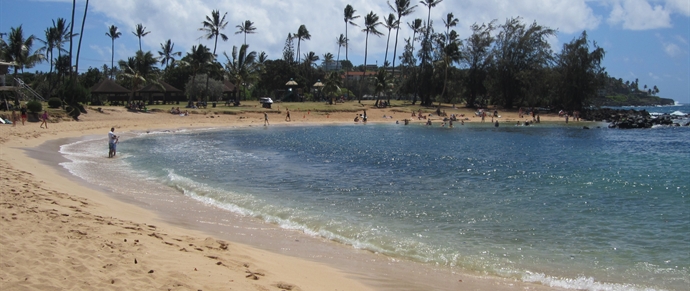 Poipu literally means "crashing waves" in Hawaiian. Poipu beach park is also sometimes confused with Sheraton Beach or Kiahuna Beach or Brennecke's Beach but is actually just the Beach Park area. This beach is located near the southern-most tip of Kauai and is a family favorite for calm, safe and friendly beach. The beaches in this area are favorites for snorkeling and scuba diving. Water is shallow here and hard to swim in some areas. Surfing can be seen off the western break, and is close enough to watch from the shore. Overall you'll find shallow gentle waters great for beginners right near the shore.

This is certainly the south shore's busiest beach and the space is compact, so you will be very close to your fellow sun seekers. With parking, facilities and nearby resorts, this beach is most likely packed any day of the week but always on weekends. You can always enjoy a picnic on the nearby grass area and tables, check out the children's playground and covered pavilions.

A protruding sand bar with rocks is a neat place to explore. However watch for crashing waves.

This beach consistently receives national and worldwide awards and is know for it's calm waters. But pack a lunch, food choices are limited, and there aren't many options.
Directions
Po'ipu (Poipu) Beach is located at the end of Ho'owili Road, off Poipu Road. You will see a large turn off Poipu road, towards the water side. There is a public parking lot on either side as you drive down Ho'owili Road.
Safety
The shoreline of this beach is mostly protected from large surf but dangerous conditions can still exist in the water. Beware of strong currents and waves breaking on the reef as well as sharp coral and slippery rocks.
Video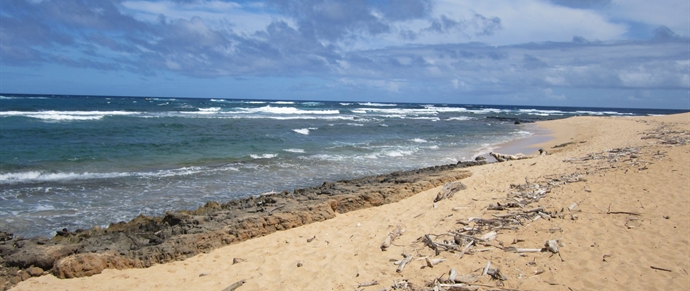 Kawailoa Bay Beach
Mahaulepu Beaches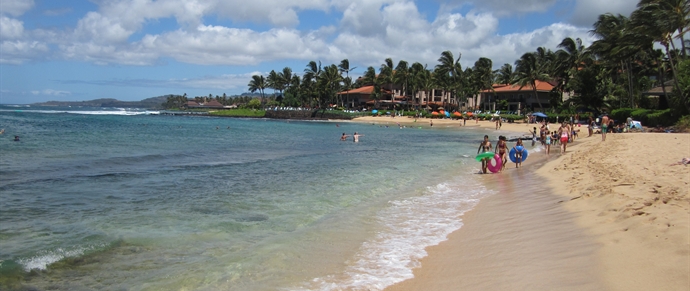 Waiohai Beach Park
South Shore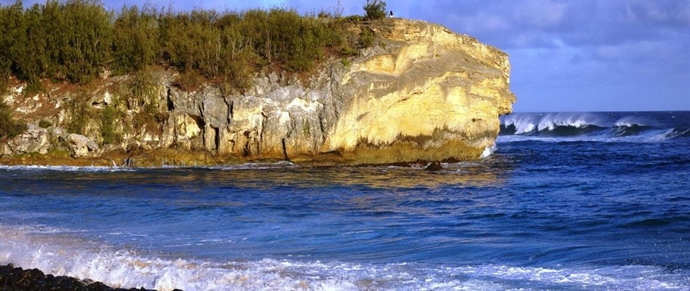 Shipwreck Beach
South Shore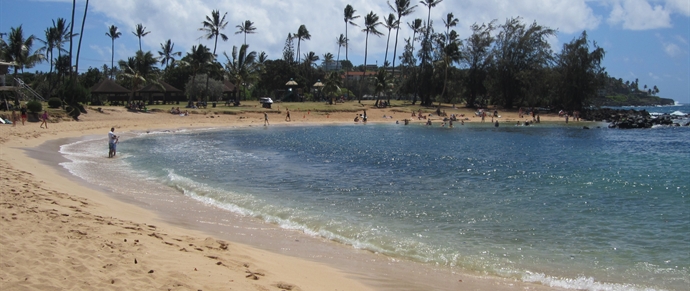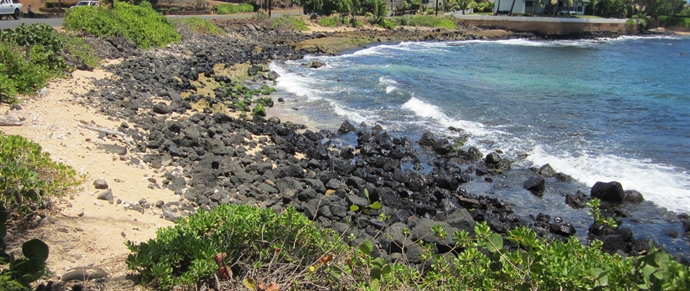 Prince Kuhios Beach
South Shore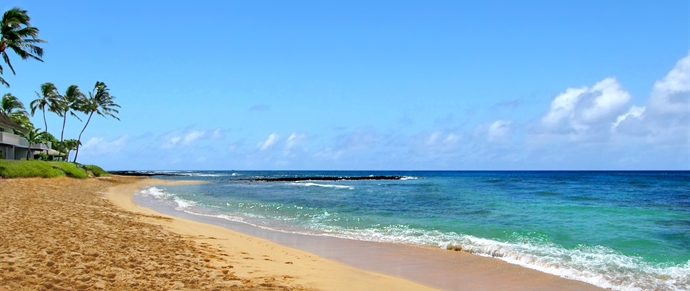 Kiahuna Beach
South Shore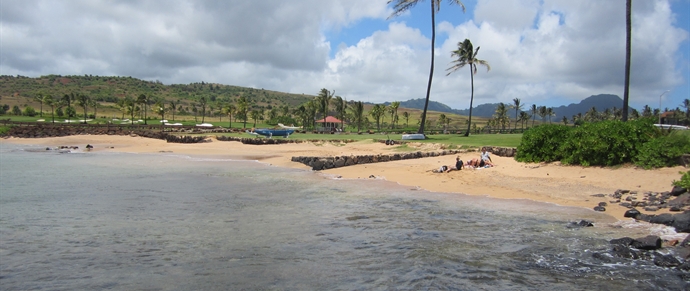 Kukuiula Beach
South Shore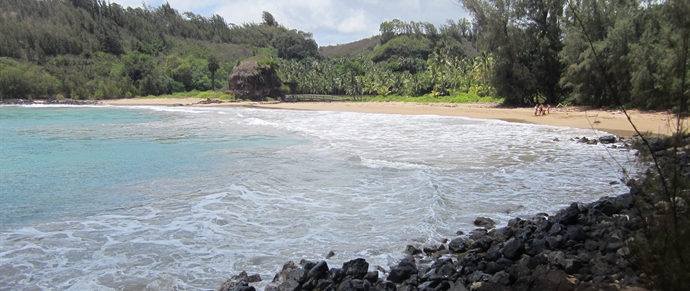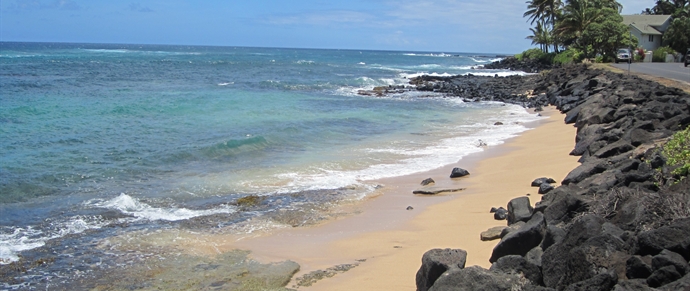 Mahaulepu Beach
Mahaulepu Beaches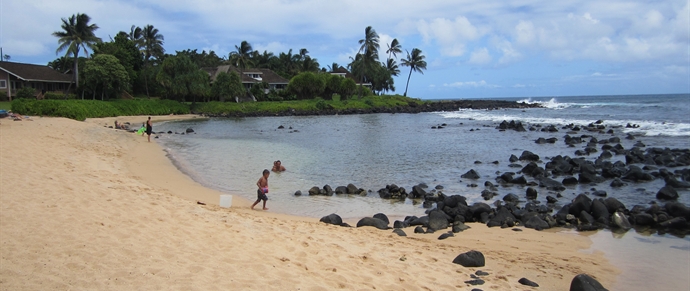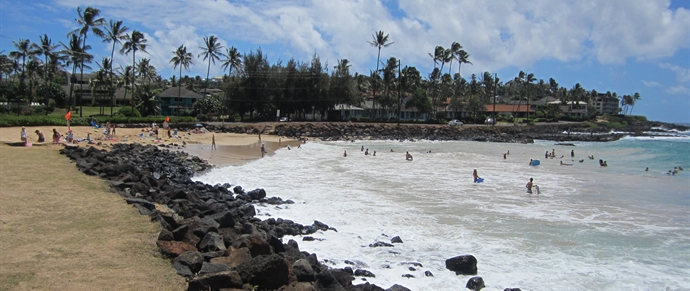 Brennecke Beach
South Shore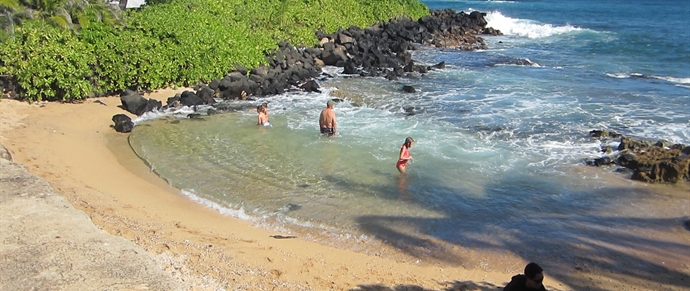 Keiki Cove Beach
South Shore